Counselling Approach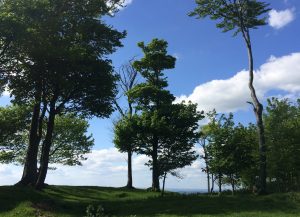 As developing babies and children, we learn to adapt to our environment in order to grow and survive. As we journey into adult hood we take these adaptations with us, where these adapted responses
are no longer so relevant to our 'grown up' situation.
What I can help with
By looking at your thinking habits and feelings and how they show up in your daily life,  gives us the opportunity to explore what is true to you now and what has been learned from the past and childhood. This in turn expands your self awareness, developing self acceptance, self compassion and choice – enhancing relationships in all aspects of your life.
As a therapist I work with the whole person (body), using a variety of techniques which can explore hidden drives and forces not necessarily revealed by the 'talk' of the conscious mind.
As neurologist Antonio Damasio puts it, "the mind is embodied, not just embrained".
What training do I have
My psychotherapy approach and training is Humanistic, covering human relationships and development.
No single approach is appropriate for everyone. As an Integrative Counsellor, I have a diploma training in Person Centered Therapy, Gestalt, and Transactional Analysis.
I also have a three year training in Voice Dialogue, from the Blagden Insitute in Dorset. Most people recognize  inner dialogues taking place within themselves and quite often, these selves can cause inner tension, split feelings and doubt. Voice Dialogue is a powerful and non-judgmental method for guiding people towards a better understanding of their inner urges and motives.
Art Therapy
I have a Person Centred Art Therapy Certificate and when appropriate use creative techniques, including art imaging and sand-tray in my counselling practice.
"Images, like dreams, tap into the world of spontaneous knowing, nothing to do with thoughts."
Liesel Silverstone, Art Therapy The Person Centred Way (1993)
What is Sandtray?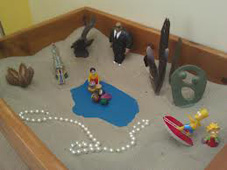 Using the Sandtray, you are invited to set up a world, by means of figures and the arrangement of the sand in  the sandbox, that corresponds to your inner state. In this manner, through free, creative play, unconscious processes are made visible in a three-dimensional form.