Counselling Journey
I am an Accredited BACP Registered Counsellor with 12 years experience.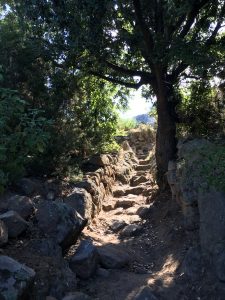 It was through my own experience with counselling twenty years ago that inspired me to retrain and change my career from a book designer to a therapist.
I started my counselling journey working in the field of addictions and substance misuse. I have worked as a freelancer counsellor for Southdown Housing Association; The Crime Reduction Inititiative ( CRI) and the Family Intervention Programme (FIP).  I worked for three years at the Women's Center in Brighton, counselling female referrals from GP surgeries and the NHS Wellbeing Service. Currently, alongside my private practice in Fiveways, Brighton,  I work part time with young people referred from the YMCA Downslink Group.
From 2003 to 2004 I participated in a two year shamanic personal development programme. Since then I have had an interest in working in nature and offer 'walk and talk' therapy as part of my private practice, at the Ecotherapy Site in Stanmer Park (more details found here).
I have completed trainings in:
Drug and Alcohol Dependencies
Working with Trauma
Working creatively with Trauma
Working creatively with Addictions
Brief Solution Focused Therapy
Sexual Abuse
Safe Guarding – children and adults
Family Constellations
Taking Therapy Outside – Understanding Therapeutic Practice in Outdoor Natural Spaces
Creative work in Sandtray

I am currently engaged in the final year of a three year training in Voice Dialogue, at the Blagden Institute in Dorset.